0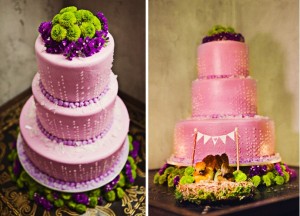 Oh, but what a week it has been!  Graduations and teacher's gifts and vacation planning oh my!  I don't know if your spring has been break neck speed like ours has been, but I am certainly glad for a long holiday weekend to slow the heck down and take in some family time.  Out to dinner, playing by the pool, and off to the beach – good times all over the place.
But we couldn't let the week end without showing you some neat stuff we found during our travels up and down, back and forth this week.  So here you go, lots cool from The World of Wedding, starting with The News:
According to a survey by TheKnot.com, savvy brides are getting smart with their wedding budget cuts.
It's official!  The Royal Wedding gave a much-needed boost to the British economy.
Thinking of a destination wedding in the Sunshine State?  Check out these Florida wedding destinations from the Orlando Sentinel.
Not a big cake fan?  Well, you have options.  Consider, for instance, a pork pie wedding cake, like this couple will have.
And now for The Sweet and Pretty:
You simply MUST see this cupcake by Kati's Cupcakes, featured on Kati's Tumblr page.  Gorgeous!
A pretty DIY wedding, courtesy of ProjectWedding.com, featuring a castle…and a purple cake!
Aren't these black iron cakestands, complete with ropes of crystals, just lovely?  Thanks to OffbeatBride for featuring them!
Check out this gorgeous Wedding for Two – a secret elopement like you've never seen before – courtesy of Strawberry Milk Events.  Scroll waaaaayyy down for the incredible, sugar rose-covered cake.  You won't be sorry.
Always a Blogsmaid features these absolutely amazing vintage-inspired posters to celebrate your wedding day.  Just sigh.
The in laws showed up from Georgia yesterday with a passel full of delicious ripe, Georgia peaches.  So forgive us if we depart from weddings to share this killer recipe with you, courtesy of Evil Shenanigans:  grilled peach and vanilla cake trifle with golden syrup whipped cream.  Yes!  Yes!  Yes!
Have a delicious week!
Cake by Gigi Bobb Bakery of Palos Verdes, California.
Read More:
black iron cake stands
,
cakestands
,
cupcakes
,
destination weddings
,
diy weddings
,
eloping
,
florida weddings
,
georgia peaches
,
peach recipes
,
pork pie wedding cake
,
purple wedding cakes
,
royal wedding
,
victorian cakestands
,
vintage style posters
,
wedding momentos
,
wedding money saving tips