0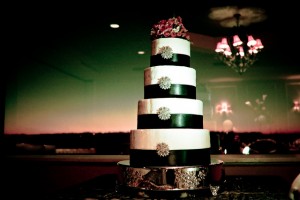 I. Love. This. Cake.
I think it's everything that a wedding cake for an evening wedding should be.  It's stylish.  It's elegant.  It's dressed up.  It's refined.  The colors are used sparingly, but with dramatic effect.  And they are hues of colors that we don't normally see.
The baker also incorporates a cake decoration that we're seeing more and more of lately – and I love it – a brooch.  Brooches that look just like something you would find in your grandma's jewelry box trim each layer of the cake, and a beautiful nosegay of pink roses crowns the top layer.
I'm pretty sure this cake receives entry into my top ten list, just for being so perfect.
Read More:
diamond brooch wedding cakes
,
elegant wedding cakes
,
emerald green wedding cakes
,
Green Wedding Cakes
,
rose wedding cakes
,
stacked wedding cakes