0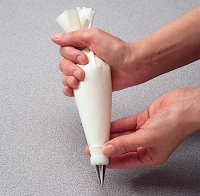 I am never surprised when I see a cake on Pinterest that I think it is just amazing and then I click the link and it takes me to My Sweet & Saucy.
Melody's cakes are just so fresh and modern while being classic all at the same time.  Seriously, the girl has some skills.  I've featured several of her cakes here before like this one with a gorgeous silhouette topper, or this cake Brooke featured with a funky Navy Blue flower, and this Silhouette Graffiti cake that just so happens to be on my top ten list of favorite cakes I've featured.
I even follow her on twitter.  It's the truth.  She's having a baby soon…it's a girl.  I know these things because of Twitter.
Anyway, My Sweet and Saucy is getting a shout out during Ruffle Week 2011 because they created a great and informative video about how to create your own ruffles!  You can check the You Tube Video out by clicking here.
Not only is she completely helpful she also makes this way too easy.  I also do not believe I have ever had any desire to eat Styrofoam before..but now suddenly I do.
Read More:
diy wedding cakes
,
how to make your own ruffles
,
how to wedding videos
,
melody brandon
,
my sweet and saucy
,
piping bags
,
ruffle icing
,
ruffle wedding cakes
,
ruffles