1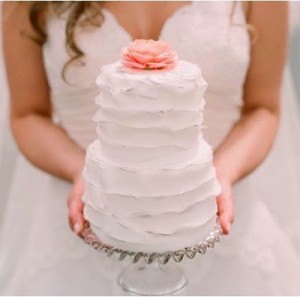 Here we go! Hold onto your fascinators! It's wedding season, y'all!
From now until Thanksgiving, my pastry and wedding planner friends will be cranking out beautiful creations and events, with so much originality and "omigosh that is so awesome and gorgeous!" that we'll hardly be able to stand it!  How many weddings will you be attending this spring, summer, and fall?  Our calendar is FULL!
While we are super looking forward to seeing all that is new and amazing in the World of Wedding, we'll get started today with what caught our eye over the last week.  But first, let's recap the Sweet that we featured here on A Wedding Cake Blog.
On Monday, we went Southern All the Way with this fantastic Magnolia and Bling Wedding Cake.
Tuesday brought a little more bling, with this fabulous Pink and Brown Square Wedding Cake with scrolls and brilliants (and ab fab wooden wedding cake stand!)
I went a little fall on y'all this past Wednesday, with a pretty Orange Flower and Monogram Wedding Cake.
And…Thursday, I was back to embracing southern summers, with Naked Wedding Cake, Part Trois.
On Cake Topper Friday, we featured these darling Egg Cake Toppers, nestled in their own little nest.
Saturdays mean For The Guys, and this week, we profiled this awesome Spiny Lobster Groom's Cake!
And now, for a little Pretty:
It appears that Wills and Kate (I mean, the Duke and Duchess of Cambridge) marked their first anni with a "pub fry-up." I just love these two, don't you?
Are you a DIY kinda bride?  Then you might love this:  Etsy has launched its own Wedding Shopping Hub and Registry.  (Thanks, Christen, for the heads up!)
And in other royal wedding news, Prince Guillaume of Luxembourg is set to marry Belgian Countess Stephanie de Lannoy on October 20 of this year.
I loved this entire feature on Ruffled Wedding Cakes on The Bridal District…so much, that I feature one of the shots above!
What's that?  You don't want to think about marriage when there's a wedding to be planned.  Please…take it from me (and Disney Wedding Blog):  do it anyway.  Get a little pre-marital counseling.  You'll likely be glad you did.
Here's a fun and informative DIY from Wedding Chicks: How to Make Fondant Roses. LOVE.  THIS.
Pink Cake Box (whom we ADORE) has rolled out an easy to use search tool for their website! We love bakers who are equal parts sugar and computer savvy!
Have a Delicious Week!
Read More:
berry wedding cakes
,
bling wedding cakes
,
countess stephanie de lannoy
,
Duke and Duchess of Cambridge
,
egg cake toppers
,
flower wedding cakes
,
fondant roses
,
grooms cakes
,
kate and will
,
lobster cakes
,
luxembourg royal wedding
,
magnolia wedding cakes
,
naked wedding cakes
,
orange wedding cakes
,
pink and brown wedding cakes
,
pink cake box website
,
pre marital counseling
,
prince guillaume
,
ruffled wedding cakes
,
wedding diy