0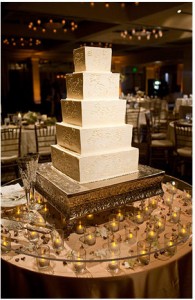 Hey There, Ho There, and Happy Solstice!  What did you do during the longest day of the year this week?  Anything special?  Nah, me neither.  But it's nice to know that, after I've been talking about it seemingly for weeks, summer is finally underway!
This week, I make my way up the East Coast, stopping in to a couple of beaches along the way, as I head to a wedding in Maryland next Saturday.  My, but we are hoping there's a crab cake at the reception somewhere.
But between packing and other prep, I've been looking at what's going on this week in the World of Wedding to share it with YOU!  Let's start with all the pretty cakes that we've seen of late.
On Monday, Kasey shared with you these adorable Wedding Cake-Shaped Cake Pops.
I featured this incredible Springerle Wedding Cake on Tuesday.  I absolutely adore it.
Wednesday's post showcased a delightful Gingham and Flower Wedding Cake.
On Thursday, we skipped the cakes and told you about a terrific sale at The Knot Shop Online.  That offer may be over, but now our friends at the world's most convenient wedding shop are offering 15% off every order, with no minimum!  Hurry, though – the offer is good through midnight tonight!
On Friday, we skipped the Wedding Cake Toppers this week and featured this lovely Geranium and Devil's Food Groom's Cake instead.
This beautiful Dogwood Wedding Cake caught my eye on Saturday, and so I decided to share with y'all.
And now, onto more Sweet and Pretty!
This made me laugh:  what to put on your wedding "do not play" list.  Vogue much, anyone?
This is a wicked awesome snow lovers' wedding:  she teaches snow boarding, he's a ski instructor. From Off Beat Bride.
A great and fun Groom Trend Watch, from Ever After, the Disney Weddings Blog.
We don't live by cake alone around here.  Kara Buntin of A Cake to Remember offers this terrific blog if baking bread – specifically, sourdough – is your thing.
I love this beautiful wedding.  The ceremony takes place in a breathtaking Transfiguration Greek Orthodox Church in Austin, Texas, while the elegant reception was held at a Barton Creek Country Club.  I feature the beautiful cake above.  From Borrowed and Bleu.
What words are more magical than Provence, France? How 'bout wedding in Provence? From French Wedding Style.
Speaking of Provence, I love me some lavender!  Check out these darling tips for decorating with lavender at your wedding! From Once Wed.
Have a Delicious Week!
Read More:
austin texas weddings
,
country club weddings
,
french weddings
,
greek orthodox weddings
,
groom trends
,
lavender wedding decorations
,
provence weddings
,
ski slope wedding
,
sourdough bread starter
,
wedding reception do not play list
,
wedding reception music