Virginia Wedding Cakes
0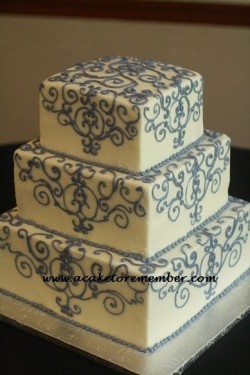 I love blue.  I don't know how I didn't end up with a blue wedding cake myself.  Probably because it Just Wasn't Done as much – you know, color – ten+ years ago.
I also think that scrollwork is lovely.  The lacy patterns made with scrolls really aren't so much feminine, so usually, guys don't object.  And they just seem to dress up the face of a cake without making it fussy.
This beautiful three-tiered square buttercream cake was created by Kara Buntin of A Cake to Remember in Richmond Virginia .  The design piped in buttercream mimics the detail on the couple's wedding invitation.  The shade of blue was used throughout the reception as well on linens and other touches.
Do you love this cake by Kara?  Check out some of her other creations that we've featured, like her lighthouse cake, her snowflake wedding cake, and one of my very favorite ever – seriously, I waxed poetic, y'all – Kara's tartan wedding cake.
0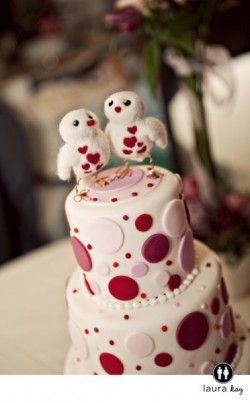 We're not done with Valentine's Day yet – oh nosireebobby!
Aren't these little lovebirds adorable?  I mean, the polka dot cake by Cakebee in Centreville, Virginia, was already all kinds of sweet, but then the dream team baker and bride came up with these precious felt bird cake toppers.  The red on the hearts coordinates with the cake so perfectly!  And the birdies are so life-like that you can practically hear the chirrups.
The bird motif was super hot in 2011, and it looks like it will carry over into 2012.  What do you Read More
1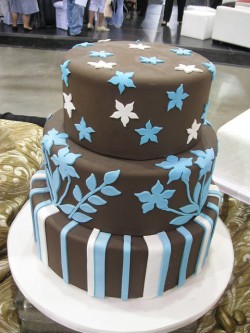 I remember the first time I saw the brown and blue color combination thrown together on the same palette. It was 2005…a Wednesday. It was raining. I worked in a small retail store, and Vera Bradley had just put out her new patterns for fall.  Right then and there I fell in love with the illustrious Java Blue. (Which by the way, went on to be one of Vera Bradley's all time best sellers. Apparently I wasn't the only sorority girl who fell in love with the combo.)
The pattern has long since been retired but the colors have been paired together on everything imaginable,   Read More