0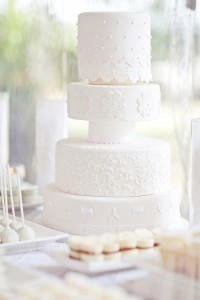 Hey Guys!  Happy Summer!
Hopefully, you didn't encounter any sparkler or firecracker mishaps this week during your celebration of our nation's Independence.  We spent a quiet day at home, recuperating from a beach crawl that took us through six states and back again, and introduced us to some fun new finds.  But even though we saw some neat things, a week plus on the road proved to us that we needn't go further than the beach in our own backyard.  Sure, I bet Hawaii is fabulous, and I know that the Caribbean is beautiful.  But give me that drive 45 minutes northeast, and I am a happy, happy girl.
So, let's take a look around and see what we found this week…all the Sweet and Pretty that we are seeing to celebrate love in style.  But first, we'll recount what we are up to here on A Wedding Cake Blog.
On Monday, I shared with you the glorious Peach and Pearls Eyelet Wedding Cake.
Tuesday's feature with another beautiful square, this Blue Scrolls Wedding Cake.
A Happy Fourth of July celebration inspired my choice of this Sparklers Wedding Cake on Wednesday.
Life was a bowlful of cherries on Thursday, with this Maraschino Cherry Wedding Cake.
We celebrated a saucy bride and her happy groom on Cake Topper Friday with this Cheeky Bride Cake Topper.
Saturday brought a big ole' "Yee Haw" as we headed to Arizona with this Cowboy Hat Groom's Cake.
And now, for the Sweet and Pretty from friends around the Interwebs!
TMI? NFL Star Chad Ochocinco live tweets his wedding.  Ah, the wave of the future I fear…formal wear and bridal gowns secreting iPhones.
A love story 55+ years in the making. There is hope of that second chance.
Rachel from Austin Wedding Blog shares with us her top five groom's blogs.  Hey, the guys need to know some of this stuff, too!
How much do we love these tea bag cookies featured on Emmaline Bride?  Cutest.  Cookies.  Ever.
I am lovin' these ideas about how to keep your wedding guests entertained from Weddzilla.  Because, I gotta tell ya.  Before I die, I WILL jump in a castle bounce house.  Preferably in formalwear.
Borrowed and Bleu has an awesome post on alternative wedding bands for the guys.
I loved this feathery white white white Vancouver Wedding from Style Me Pretty.  Lucida Photography captured the pretty, and I feature the cake above.
Have a Delicious Week!
Read More:
chad ochocinco
,
diy weddings
,
grooms blogs
,
vancouver weddings
,
white wedding cakes