0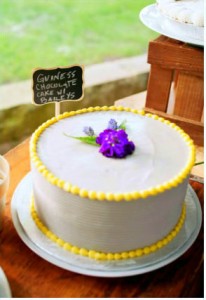 Happy Sunday!  I am soooo about to check out for a few days while my ab bestie is here visiting.  I can't wait!  It's been WAY too long.  But before I go get my beach on for the week (with a little Dark & Stormy action sprinkled in for giggles), I had to show you what I've been seeing this week.  Gosh, but it's been a pretty summer wedding-wise, with lots of homespun and lace.
But before we take our weekly peek at the interwebs, let's see what we've been up to right here at A Wedding Cake Blog.
On Monday, we featured the most DARLING Sunflower Wedding Cake.  It made me want to go get lost in a meadow somewhere.
Tuesday's cake was all about the fairytale ending, with this Happy Ending Wedding Cake.
The Love Birds and Succulents Wedding Cake we featured on Wednesday was a big hit with our readers.  So cute!
We got our color back on Thursday with this gorgeous Orange and Magenta Scroll Wedding Cake.
Cake Topper Friday ushered in this sweet Dancing Couple Cake Topper.
On For the Guys Saturday, it was adorableness in spades with this darling Chocolate Honey Groom's Cake.
And now for some Sweet and Pretty!
Cakewrecks has a lovely collection of Marie Antoinette-inspired cakes on display.  So get your beautifully over excessive on!
I FLIPPED over this adorable DIY wedding, held at Hummingbird House in Austin, Texas. What I loved the most, I confess, is that homespun sweets table, created by Sugar Mamas Bakeshop!  Guiness Chocolate Cake with Bailey's??  Sign.  Me.  Up.  And so pretty that I feature it above.  From The Loveliest Day, featuring Katherine O'Brien Photography.
This is a great collection of inspiration for Wedding Dessert Buffets, from Austin Wedding Blog.
Aqua has my heart right now – I CANNOT get enough of it – so I really loved this Shell Island Resort Wedding, from Emmaline Bride.
Anybody else starting to get a little heartsick for fall?  This wedding will make it worse.  A fusion wedding with Eastern and Western elements, and some beautiful autumn thrown in for good measure.  From Borrowed and Bleu.
A great read on homegrown British wedding flowers.  From Love My Dress.
Have a Delicious Week!
Read More:
aqua weddings
,
asian influence weddings
,
austin weddings
,
chocolate honey groom's cake
,
dancing couple cake topper
,
fairy tale wedding cakes
,
fall weddings
,
fusion weddings
,
happily ever after wedding cakes
,
happy endings wedding cakes
,
homegrown british flowers
,
hummingbird house weddings
,
love birds wedding cakes
,
magenta wedding cakes
,
marie antoinette wedding cakes
,
orange and magenta wedding cakes
,
orange wedding cakes
,
shell island resort weddings
,
succulents wedding cakes
,
sunflower wedding cakes
,
texas weddings
,
wedding dessert buffets
,
wedding flowers
,
white wedding cakes