Snowman wedding cake
0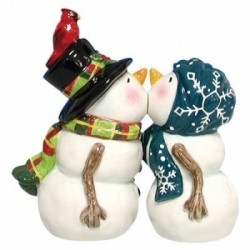 The weather outside is (getting) frightful – at least in the northern half of the country, so this kissing snow people wedding cake topper seems like the perfect item for a cold and blustery winter day.
This cute and frosty couple would be perfect on top of your lovely white wedding cake. They'll fit right in to your winter-themed wedding and as an added bonus, they're also salt and pepper shakers. Read More
0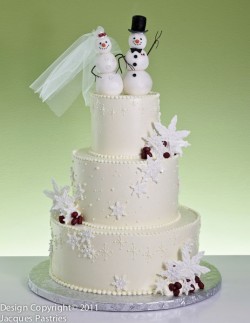 After sweltering and nearly melting in last week's heat wave, I had to find a cake that made me think of cooler temps, and this super cute Snowman Couple cake is it!
I love the simplicity of the cake itself – just white frosting and some gorgeous snowflakes accented with red berries which make the whole cake just pop!
But what really made me smile were the adorable snow people standing atop the snowy white cake. Seriously – how cute are they, dressed in their snowperson wedding best? Who knew Frosty could be so handsome? Read More