the pink cake box
0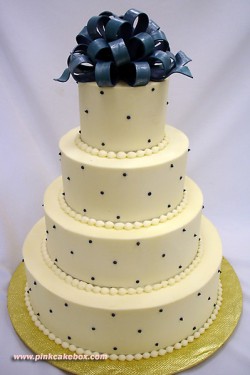 I made mention to it earlier this week but Navy is my color for 2012.  I don't know why but suddenly Navy is popping up all over my wardrobe and in my house.  I just adore it.  It's not a shocker that this love has transcended into Navy Wedding Cakes.  I searched and searched for my first Navy cake feature.  And then I found this Navy Blue Bow Cake made by The Pink Cake Box, a baker we just love to feature here on AWCB.
This cake has four tiers and is a round cake.  The cake is chocolate ganache and covered in white buttercream.  The Navy comes in the form of an adorable swiss dot pattern all over the cake.  And that bow.  The show stopping fondant Read More
0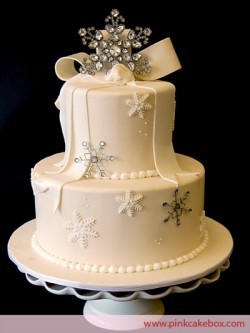 Early this week I featured this Holly Cake from The Pink Cake Box and I promised there would be more treats from The Pink Cake Box during CCW11!
I told you about a dream I had once.  For a winter wedding that included a white horse drawn carriage, (faux) fur muffs and shaw, and white gloves up to my elbows.  The problem with this dream December wedding?  South Carolina can be a little persnickety with the whole winter weather situation.  Like today.  It's 76 degrees.  Last Christmas it snowed.
Anyway, had I gotten to make my winter wonderland dream a reality, this Read More
0
Happy Thanksgiving friends! I hope you are spending your day with family and friends and eating lots of turkey, playing football and scarfing down some pie. In other news…
I did it! I actually found a Thanksgiving themed cake that is NOT shaped like a Turkey. Who knew it was possible?
The people at The Pink Cake Box must have had an un-turkey like vision for this beautiful three tiered spice cake. Yum. A Thanksgiving wedding with spice cake just seems like an amazing idea. In order to make it fall themed they added apples, Read More