yellow and grey wedding cakes
0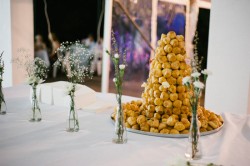 We are back from a little jaunt to the Southernmost Point in the US y'all, for one last summer hurrah before school starts!  And while I dry out and give my liver a rest, I thought I'd entertain the both of us by seeing what went on in the world of wedding while I was playing in the (almost) Caribbean!  But let's Read More
0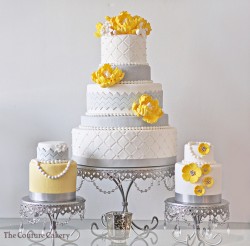 Yellow and grey are so hot right now.  We are seeing them simply everywhere!  And wedding cakes are no exception.
Isn't this trio of cakes by Jasmine Clouser of The Couture Cakery darling?  Where to start?  The color combo is enchanting; I especially love how Jasmine used both bold and pale shades of yellow.  The quilting on the large cake is divine.  And the pearls!  The varied heights of the cake rounds is awesome too, and keeps the whole cake from slipping into something too traditional.  Add to it the juxtaposition of the flouncy peonies with the stylized simpler flowers, and it's just all perfection!
Jasmine created this cake trio for a bridal show earlier this year, in conjunction with Weddings by JDK and Persnickety Invitation Studio.  The sweets table that came out of this dream team collaboration is simply breathtaking!  Gorg!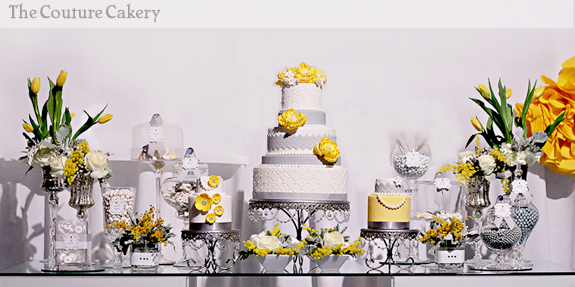 If you love these cakes, be sure to look at others that we've featured by Couture Cakery, like this Orange Spring Tiger Lily Wedding Cake, and this Indian Inspired Cake.
2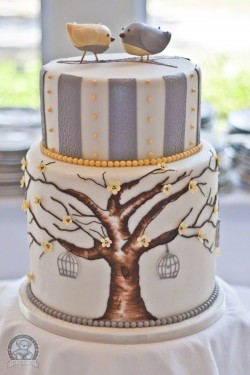 It's one thing to see a cake which features details that prove that the cake artist is well-versed in the culinary arts.  But it's quite another when the baker also proves that she is an artist in the true sense of the word.  Today's featured cake shows just such a gift.  We actually linked to this beautiful hand-painted cake by Dream Day Cakes of Gainesville, Florida, in our Let Them Eat Cake Round-Up last May, but it's so special, we thought it deserved its own post.
Notice the details:  both the tree on the bottom tier, as well as the branch that the bird cake toppers are "perched" on, were handpiped meticulously by baker and cake artist Yeni Monroy.  Fred Read More