0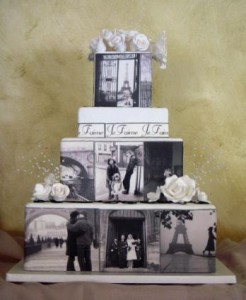 And where does this first day of April find you?  We are chillin', back home from our little getaway, and eager to take on the last quarter of school before – yippee! – summer vacay!  While it's hard to stay focused some days, when I remember that my focus is on, you know, cake and pretty…well, it suddenly puts it all in perspective.
So, what are your favorite finds lately in the world of wedding?  Let's compare notes!  But first, we'll take a look at what we've been talking about this week on A Wedding Cake Blog.
On Monday, we looked back – or forward – to fall, with our Autumn Leaves and Chocolate Swirls Wedding Cake.
Tuesday brought us this stately White Wedding Cake with Fern Piping and Lovely Roses.
We featured this awesome Blue Sombrero Wedding Cake on Wednesday.  Ole!
Thursday saw this ab fab Gremlin Wedding Cake, featuring two mischevious lil guys totally in character.  Seriously…do you know who they are?  Tell me.  Please.
On Cake Topper Friday, we featured some lovely cake topper options now on sale at The Knot Wedding Shop online!
And now, for the week's Sweet and Pretty!
Apparently, we aren't the only folks gleaning inspiration from Pinterest. Looks like lots of singletons are using the site as a clearinghouse to plan their dream wedding…before they have a fiance.
Just in time for the spring and summer wedding rush, Beth Devine Designs announces new additions to their popular beach jewelry collection!  View all the pretty in their online catalog.
David's Bridal design director Dan Rentillo shares his picks for the top five celebrity-inspired looks that will find their way into weddings this year.
The Daily Meal features 21 Jaw Dropping Wedding Cakes.  We fell in love with the first one up, which wrapped the cake in photos printed on rice paper of the couple's favorite Parisian memories!  Brilliant, beautiful, breathtaking…we had to go in search of the bakery, which turned out to be San Diego's The French Gourmet. We feature a photo above, as we busily search online for Paris airfare.
The Wedding Bee's Miss Dragon discusses age difference in relationships.  What are your thoughts?
Erika from Borrowed & Bleu talks about five trends for winter and spring weddings. I'm especially intrigued about wedding cakes and a return to elegance.
Have a Delicious Week!
Read More:
age difference in marriage
,
autumn leaves wedding cakes
,
Black and White Wedding Cakes
,
Blue Wedding Cakes
,
cake topper sales
,
celebrity looks
,
festive wedding cakes
,
funny wedding cakes
,
gaming wedding cakes
,
mexican wedding cakes
,
mischevious wedding cakes
,
pinterest wedding planning
,
red carpet looks
,
rice paper wedding cakes
,
roses wedding cakes
,
sombrero wedding cakes
,
spring wedding trends
,
the knot online sales
,
theknot.com
,
wedding cakes with photographs
,
white on white wedding cakes
,
white roses wedding cakes
,
white wedding cakes
,
winter wedding trends