0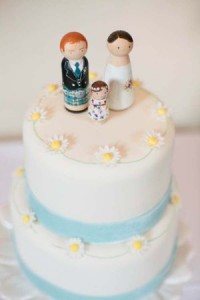 Happy Unofficial Start to the Summer Season, Y'all!
Do you wish people a Happy Memorial Day?  I mean, it kinda seems like a contradiction in terms.  When I was growing, up, Memorial Day was less about partying, and more about remembering.  I guess I'm happy with a hybrid of both:  do a spot of remembering, and then go honor those we love and miss, and others that gave all for our freedom, by enjoying some of that freedom and leisure.  What I don't get?  Those pesky home improvement commercials that seem to think I should tackle a project this weekend.  Not.  Gonna.  Happen.  Projects?  Are for the week, y'all.
So before I put on my swimsuit and head east, not to be heard from again, I thought I should treat you to some Sweet and Pretty from around the Interwebs.  Let's recap what we've been up to on A Wedding Cake Blog this week.  Here we goooooo!
On Monday we featured Erica O'Brien's beautiful Pink Ombre Pinwheels Wedding Cake.  Fab!
Tuesday brought with it this lovely Hand Painted Bird's Nest Cake.
We adore these darling Rose Wedding Cupcakes that we shared with you on Wednesday.
A Cake to Remember's Cameo Wedding Cake with Pearls, Thursday's Sweet, is absolutely stunning, yes?
On Cake Topper Friday, we showed you this ohso modern Metal <3 Topper!  Isn't is awesome?
What's your fiance's favorite treat?  Consider making it his "groom's cake," like this Klondike Bar Groom's Cake we brought to you Saturday.
And now, onto the Pretty!
Will you be calm, cool, and collected (or were you?) on your wedding day?  How 'bout if a twister is screaming across the landscape, behind you, at a distance?
Wondering if you should invite your co-workers to your wedding? You aren't alone.
I am a big fan of Jenniffer and her darling beautiful Cup a Dee Cakes in Georgia.  Want to learn more about how she does what she does?  Check out this diamond buttercream quilting tutorial that she's posted.
I adore this beautiful and charming English Spring Wedding. It's just so lovely – and the cake!  The groom wore a kilt, and so does his cake topper likeness.  I loved it so much, I feature it above.  From Love My Dress.
I am a serious lover of seersucker, and it's so HOT right now!  I had to show you these darling seersucker clutches, featured on Emmaline Bride.
Want to start your own wedding planning business?  Rhi from Hey Gorgeous has some great advice for you.
Popsicle + Cocktail = Sign me up!  This is a GREAT little idea for a summer engagement party, or even an informal wedding.  From Hostess with the Mostess.
Have a Delicious Week!
Read More:
baby blue wedding cakes
,
birds nest wedding cakes
,
cameo wedding cake
,
daisy wedding cakes
,
emoticon cake toppers
,
hand-painted wedding cakes
,
ice cream bar grooms cake
,
kilt cake toppers
,
pearls wedding cake
,
pink pinwheels cake
,
rose cupcakes