cupadee cakes
4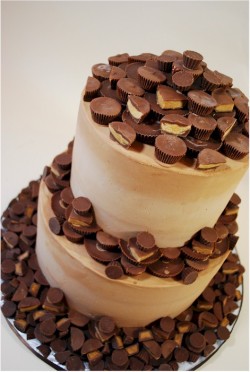 Peanut butter and chocolate…is there a more heavenly combination? But seriously I am full-fledged Reese's addict, and this cake is a dream come true!
I came across this blessed jewel on Pinterest but it originated from the lovely Cup A Dee Cakes. They classified it as a groom's cake but I happen to think that it would be a great non-traditional (and yet still traditional) wedding cake.
And if you didn't swoon over the copious amounts of Reese's cups on the cake get ready for the deliciousness inside! It is a dark chocolate cake covered in peanut butter buttercream frosting. I'm in heaven ya'll!
Now if you will excuse me I am off to satisfy my Reese's craving while you all contemplate the amazingness of this cake!
Source: Pinterest
0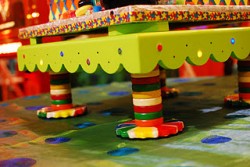 We are no stranger to Jenniffer from Cup A Dee Cakes. We've featured some of her gorgeous cakes before like this Scroll Pattern Cake and we have featured her on our Let Them Eat Cake Round Up more times than I can count.
However, we've never met her Read More
0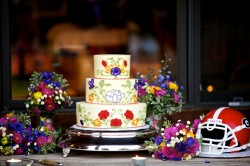 What a great time of the year!  We hope that you had a wonderful Thanksgiving, gathered together with family or friends – or both!  We did, and we're still enjoying those fantastic leftovers!  And while our attention is rapidly turning to Christmas and the winter holidays, we're excited to bring Read More