sage wedding cakes
0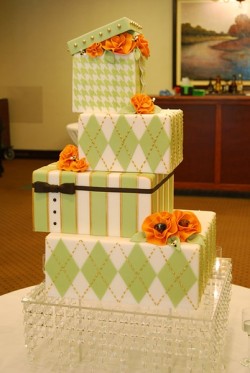 I'm in a unique state of mind this week, y'all.
This box-themed cake is incredible, don't you think?  I love everything about it.  The meticulous execution of the theme (really.  Would you know it was cake if I didn't tell you?)  The colors.  The flawless – and I do mean FLAWLESS designs of argyle, hounds tooth, and stripes.  The off-center stacking that is different than the way we usually see a wonky feature like that applied.  And how about the top "box", with the lid propped up, flowers spilling out?  I love that the cake perfectly blends masculine Read More
0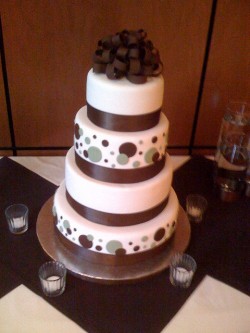 First, let me apologize for the less-than-super sharp picture. But I thought this cake was post-worthy, so I went with it

Isn't it darling? I mean, we aren't seeing anything terrifically new or daring here, but what we are seeing is executing beautifully. First of all, I LOVE brown – and it doesn't even have to be chocolate for me to be happy about it. Secondly, I'm not always a big fan of fondant bows…honestly, most of the time, I'd rather see satin ribbon. But this one is perfect and gorgeous! Scaled exactly perfectly to the cake.
I like the Read More