0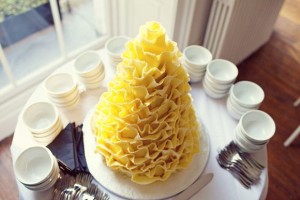 Happy New Year, Everyone!
Yes, I know that technically, I'm a full week behind.  And I know that technically, today is the Epiphany, and the end of Christmas, and not the New Year.  But is anyone else having a hard time cranking up the old machine again, getting on the horse?  I blame my spread out holidays.  See, owing to our family dynamic, we sort-of-kind-of just wrapped up celebrating Christmas.  So I guess now I feel like it's time to move on, make those resolutions, put away those decorations, and get started with the all kinds of awesomeness that I know 2012 will be.
So let's find some inspiration, and make this the best year ever!  And what better way to inspire to go higher, than a little Sweet and Pretty?  But first, let's check in with the News:
Here's some cheerful news for you:  the economy is taking its toll on big weddings.  Silver lining:  couldn't this lead to a little more individuality and creativity?  I'm thinking yes.
I thought I was the only bride, ah, blessed with my groom's help!  Well, that was ten years ago, so maybe we were ahead of the curve.  Apparently, grooms are becoming more involved in wedding planning.
Ever heard an apology that sounded more like a justification?  If not, here's an example, as David's Bridal apologizes for some wedding gowns that a Priscilla's of Boston boutique, which was closing, destroyed.
And now, let's find some Sweet and Pretty!
What do you think of these colorful wedding dresses featured on Austin Wedding Blog?  Some yes, some no…but mostly, yes imo!
I LOVE this real wedding at Newport Aquarium!  This lovely autumn wedding was featured on Borrowed and Bleu. How would you like to dance the night away, while jellyfish float gracefully by?  Yes, please!
Do you know a guy that's about to navigate the murky waters of weddingdom?  Check out Chris Easter's book, Be the Man, and the snazzy giveaway that could land you or your favorite groom your own copy!  Find it on My Ex Wife's Wedding Dress.
You know about my love of retro, right?  Well, couple it with my Anglophile-ness, and you get…this gorgeous, 1940's-inspired wedding.  Yes and yes.  And yes to that beautiful ruffled cake by Patisserie Valerie.  Those white chocolate ruffles are covering chantilly and dark chocolate cream.  I'll let that sink in. From Love My Dress.
Here's a pop of colour to drive the winter doldrums away!  A sweets table, featuring aubergine and orchids, courtesy of Cakes by Beth.
Sorry, guys, but I will never get tired of white cakes.  Or cakes with snowflakes.  Or cakes with monograms.  But a cake that features all three? That's wedding cake Nirvana.  From Intricate Icings.
The unflappable Erica O'Brien is always teaching us something.  Today, we feature her Lessons Learned, for burgeoning bakers out there.
Have a delicious week!  And a scrumptious 2012!
Read More:
aubergine wedding cakes
,
be the man
,
chocolate wedding cakes
,
chris easter
,
Christmas Wedding Cakes
,
colorful wedding dresses
,
david's bridal
,
grooms involved in wedding planning
,
london weddings
,
monogram wedding cakes
,
Orchid Wedding Cakes
,
Priscilla's of Boston
,
purple wedding cakes
,
ruffle wedding cakes
,
snowflake wedding cakes
,
Sweets Tables
,
wedding cake lessons
,
weddings and the economy
,
white chocolate ruffle wedding cakes
,
white wedding cakes
,
winter wedding cakes