1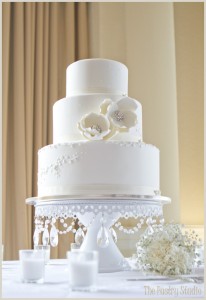 Once upon a time, two pastry chefs fell in love, decided to get married, and opted to spend more on the cake than her dress. (See that cake over there?  Made by the wonderful Sherri Meyers of The Pastry Studio in Daytona Beach?  She made my cake, too.  Alas.  Before the days of great digital photography.)
True story.  I know, because I was there.
What's my point, you ask?  Well, for some couples, a wedding cake is just another detail to cross off the mile-long to do list.  For these folks, having Aunt Bessie bake her famous sheet cake for free, or heading down to the local supermarket…well, that's fine.  (And Aunt Bessie may be fantastic, and IGA may make the best cakes in your town. I'm super not disparaging either.)  For others, however, it's a big decision that requires some thought.  And with the dizzying array of options out there, thanks in part to wedding cakes becoming firmly ingrained in pop culture (thanks, Food Network competition shows), it can be a little unnerving to decide just what kind of statement you'd like to make with your cake…especially when said cake can set you back some major coin (are the kids still saying that these days?)  Luckily, you have us to help.  But first, we must determine your cake style.
Your what?
Your Cake Style.  Don't worry.  It's painless.  I won't even make you take a quiz…just keep reading.
Did you know you have a Cake Style?  Well, you do.  Ask almost anyone, and he or she will offer a strong opinion regarding cake – what's good, what's bad, what's the best they've ever had.  So, before you decide what towering confection will take center stage at your reception, it might be a good idea to determine what your Cake Style is as a couple (and if we need to discuss two cakes due to radically different Cake Styles…groom's cake anyone?)
Classic. Do you wish you looked like Grace Kelly?  Is your closet full of twin sets?  Does the thought of wearing white after Labor Day send shivers down your spine? (with one obvious exception…ok, we'll go with winter white.)  Then you may be a traditionalist.  You favor buttercream over that new-fangled fondant (well, technically Old World, but that's another post.)  And a wedding cake should be white on white on top of more white.  Want to add a little spice to your traditional cake, while still keeping with a classic silhouette?  Consider a monogram (ohso classic!) or a rhinestone or pearl initial cake topper, which can make a statement without clashing with your sensibilities.
Cutting Edge. You want everything that is the newest and the latest, and you want it, like, yesterday.  Nothing will do for you but the hippest and hottest trends for every aspect of your wedding, including your cake.  You are a trendsetter, and you want to rock your reception with a cake that will keep the guests talking long after the last dance is over.  Hot, bold color combinations, like black and green, or zebra stripes and Tiffany blue, set your heart singing!  But keep in mind:  today's hot trends may be tomorrow's laughable moments in your photo montage/shadowbox/wedding album.  Just so you're okay with it.
Contemporary. You don't want to throw out the old, and you don't want to dismiss the new.  You'd like to combine tradition and trendsetting to come up with some that honors the past, while looking to the future.  You are our modern bride.  You might love to nod to tradition by having an all white cake; but you'll zip it up by adding bold, geometric patterns in shades of white.  Or maybe your design is thoroughly modern, and the latest thing – but the traditional cake you serve is the same one that your parents featured at their wedding.  You embrace it all, and believe that the past, the present, and the future all have something to contribute – and you want to make sure that your cake reminds everyone of that fact.  Consider new techniques, like stamping or quilting fondant, over an old world flavor, like a traditional British fruitcake coated in marzipan.  The best of both…how can you go wrong?
We hope we've given you some good advice on determining what your Cake Style is.  If you need more guidance on this decision, talk to your baker.  He or she is an expert and an artist, and they are there to help.  Like every decision surrounding The Big Day, this one should be fun, fabulous, and should ultimately express who you are as a couple.  Good luck!
Read More:
bold color wedding cakes
,
cake style
,
florida wedding cakes
,
gumpaste flowers
,
monogram wedding cakes
,
quilted fondant wedding cakes
,
rhinestone cake topppers
,
stamped fondant wedding cakes
,
swarovski crystal wedding cakes
,
tiffany blue wedding cakes
,
white wedding cakes
,
zebra stripe wedding cakes