1
Exactly one year ago today I jumped on-board this bandwagon called A Wedding Cake Blog. It's been a great year and I have literally been up to my eyeballs in frosting ever since. I've talked about cupcakes, traditional cakes, very blue cakes and been introduced to Cake Pops and Mini-Cakes. I've over-shared..I mean really..who knew that a simple wedding cake could inspire so much random blubbering? So on the eve of the eve of the New Year I've decided to take a look back at my top ten favorite posts of our first year here on A Wedding Cake Blog.
10. When I learned about Cake Pops. As a newb on the wedding cake scene I had never heard of such a thing. Now you can buy kits and make them at home. Who knew?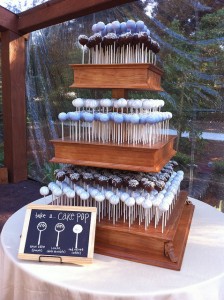 9.  Kim Kardashian's Wedding Cake.  Granted at the time we had no idea that her marriage would end before the top tier had a chance to freeze.  I wonder if momma Kris is mad she spent all that money on ponies for the party where Kim announced her engagement to her family.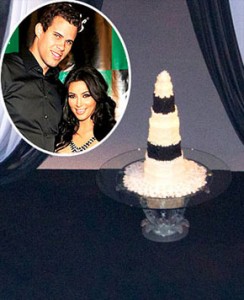 8.  The first cake made entirely of cheese made me giggle, the second made me scratch my head a little bit and by the time I found the THIRD cake made entirely of cheese I began to question the existence of humanity.   Yes, Christen some people do prefer cheese to cake.  I've never met any of them–but apparently–they exist.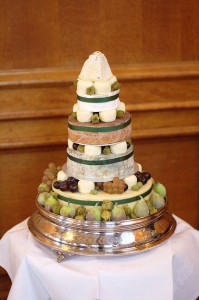 7.  The Disney Beach Wedding Cake that looked exactly like a sandcastle amazed me.  I am not sure I could have ever sliced into this cake for two reasons.  First, it was too gorgeous to cut..and the second..I am not sure I could get over the feeling that I was about to eat sand long enough to put it in my mouth.  It was that realistic!
6.  This post where I talked all about Groom's Cakes and featured several gorgeous options from A Pink Cake Box. Some may call this one "the post where I told you that you don't actually need a grooms cake but then gave you 2983983902 reasons why you should".  Sorry grooms cake haters of the world.  I didn't really help your cause.  Besides, who wouldn't want a cute monkey in a tuxedo at their wedding or rehearsal dinner??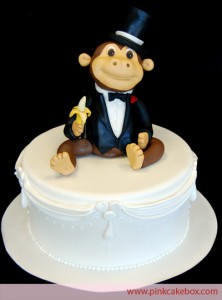 5. I think I fell in love with the ruffle when I posted this Ruffled Mini Cake by Sweetopia back in July.  It's pink, it's little and perfect for showers or outside summer weddings.  I mean who doesn't love the freakin' ruffle?
4.  One of my first cakes that I posted I let you in on a little secret (that you are probably well aware of)  southern girls LOVE their monogramming…and Christmas China..but that's a trend I never understood.  Throughout the year I have posted several gorgeous cakes but much like Darren on Bewitched..the original was always my favorite.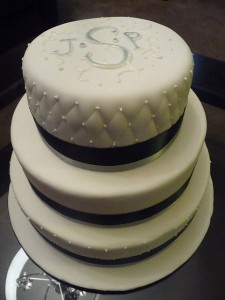 3.  Cake Topper Friday became such a fun outlet for me.  I loved searching Etsy and finding my favorite cake toppers…then asking to do a feature and getting back such an enthusiastic yes!  (FYI, we aren't comped or perked to feature anything..we just do it for funsies).  My favorite had to be the Bicycle for Two Cake Topper made by Star House that had me embrace my inner barefoot bike riding hippy.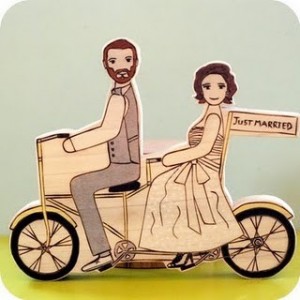 2.  Am I seriously on number two already?  Argh..this is tough.  My favorite post of the entire year happened to fall on my 30th birthday.  It is also the day I ditched my nerdom and started talking about more important things like Income Taxes and Mutual Funds (just kidding..I have no earthly idea what those things are actually).  I did a whole post all about Nerdy Wedding Cakes where I shared with the world my love for Hermonie Grainger and how much I hate math.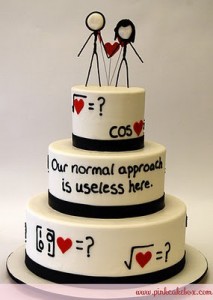 1.  My beloved Silhouette Cake from Sweet and Saucy Bakeshop.  This was a toughie for me because having this as my number one might have you notice that the Royal Wedding didn't make the list.  There are several post from the Royal Wedding that would make my "favorite post list"..but nothing..no nothing can top my love for this cake made by the team at Sweet and Saucy.  From the light gray silhouettes and words sprawled across the cake to the pale pink cake stand I am in love.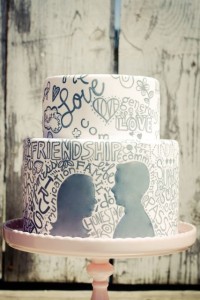 From looking at my top ten list you might notice that I shy away from the traditional approach to weddings–and you might not agree with that–but it's cool!  I know for a fact that Brooke's Top Ten List would look drastically different than mine (I would venture to guess that this tartan beauty would be on the list).  To be honest there were too many cakes to just choose ten.  I probably could have done a Top 40 List.  Each cake we've featured this year has been gorgeous (or we wouldn't bother with it to be honest).  I didn't even touch the Royal Wedding posts…this might have been a 10,000 words if I did that!
We hope that you enjoyed 2011 on A Wedding Cake Blog and that you continue to come back for more in 2012!
Read More:
disney cakes
,
kim kardashian wedding cake
,
math cakes
,
math themed wedding cakes
,
melody brandon
,
monkey cakes
,
nerd cakes
,
ruffled cakes
,
ruffled wedding cakes
,
sweet and saucy cakes
,
the pinke cake box
,
themed wedding cakes