0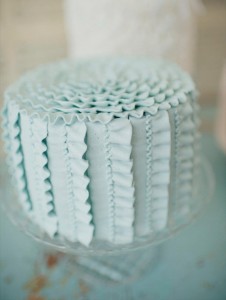 Oh, but we have hit Spring Fever with a vengeance in my household.
We want to go to the beach!  And the pool!  Because in Florida, Spring Fever looks a lot like, you know, summer. But there have been stock car races and Bike Weeks and crazy parties for Irish folk to get through…before the Spring Breakers descend.  And we are eager to join them.  Like, next week.
So, we are introducing a slightly different format for our Let Them Eat Cake blog round-up, starting this week.  We'll be sharing with you what we've been up to all week (in case you missed it…it's one stop shopping

)  We'll also be cutting back just a bit on our links to friends, although you can still expect to see plenty of the Sweet and Pretty that keeps us going "Omistars…sigh" All.  Week.  Long.
So, here we go!
We kicked off the week on Monday with this stunning Crystal and Pink Snowflake Cake.
Tuesday, we featured this incredible Chocolate Truffle Wedding Cake.
In homage to St. Patty's day on the way, we highlighted this Green Leaves Wedding Cake on Wednesday.
Thursday brought the return of the naked cake, with this Bananas Foster Wedding Cake.  Yum.
This darling tiara cake topper wrapped up our work week.
Saturday's All White Roses Wedding Cake showed that all-white cakes can still be breathtaking.
And now for a bit of Sweet and Pretty:
I love LOVE this wedding in my part of the world – Central Florida.  Especially do I adore those chocolate brown bridesmaids and the adorable flowergirls with their equally adorable tiaras.  From Borrowed and Bleu.
In case you were confused about this, the answer is YES:  weddings do make families crazy.
Did you know?  Dick Van Dyke tied the knot. His bride, make up artist Arlene Silver, is 46 years his junior.
Great ideas for decorating simple wedding cakes.  We loved the aqua ruffled cake so much that we feature it above!  Props for that fabulous raspberry-pistachio cake, too – yum!  By Emmeline Bride.
I love this gorgeous engagement shoot from Kristine and Chris' river engagement shoot.  Makes me want to head there, too.

 From Polka Dot Bride.
Incredible = this stunning collection preview from Ruche Bridal, featured on The Knotty Bride.
Have a delicious week!
Read More:
bananas foster wedding cakes
,
brown wedding cakes
,
chocolate wedding cakes
,
crystal wedding cakes
,
dick van dyke
,
florida weddings
,
naked cakes
,
Orlando weddings
,
ruche bridal
,
simple wedding cakes
,
snowflake wedding cakes cakes
,
tiara wedding cake toppers
,
truffle wedding cakes
,
un-iced wedding cakes
,
white wedding cakes