0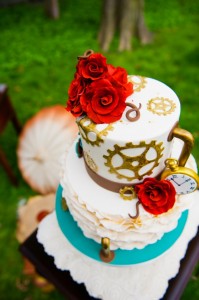 Happy Sunday, Friends!
Where does this spring day find you?  On a picnic?  Up to your eyeballs in spring cleaning?  Planning a blow out vacay for Memorial Day Weekend?
Well, where ever and whatever you are up to, I hope you can spare a couple of minutes to put your feet up and look at some lovely, fluffy stuff with us!  Let's get started with a peek at what we were up to this week on A Wedding Cake Blog!
On Monday, we featured this beautiful and simple Plumeria and Ruffles Wedding Cake.
I decided to feature one of my personal favorites on Tuesday, this lovely Lighthouse Cake.
Wednesday brought with it a little DIY for the culinarily crafty bride:  how to make your own Fondant Roses Wedding Cake.
Thursday's entry into the fab was one of my favorite cakes EVER – a Jimmy Buffet Inspired Wedding Cake.
On Cake Topper Friday, we featured this sweet Rainy Day Wedding Cake Topper.
For the Guys Saturday was a fabulous "May the 4th Be With You" with this Star Wars Groom's Cake. (And Hello to our fabulous friend, Kasey, who is joining me in bringing you the cake love!)
And now for the Pretty (with a little Sweet thrown in for good measure):
Facebook Founder Mark Zuckerburg wed his longtime girlfriend in a secretive ceremony yesterday…at least that's what her status update indicates.
Pippa Middleton seems to be snagging the spotlight at another wedding – this time in a beautiful raspberry-colored wrap dress.
Groom's Advice offers some input for choosing a groom's cake alternative for the guy who doesn't like cake.
Here's a lovely little DIY Project:  How to Create a Pinwheel Place Setting.  From Love My Dress.
One Fab Day and I LOVE these floral dresses, perfect for your bridesmaids or guests at your summer wedding.
I am absolutely enthralled with this Steampunk Wedding Shoot and the incredible cake made for it by Sweet Talk Cakes and Confections of Norristown, Pennsylvania.  From Emmaline Bride.  (I lurve the cake so much, I feature it above.)
Here are some beautiful Kentucky Derby Wedding Ideas, from Wedding Chicks.
Aren't these tents gorgeous?  We love Wedding Tidbits for sharing them!
Have a Delicious Week!
Read More:
floral dresses
,
fondant roses wedding cake
,
groom's cake alternatives
,
jimmy buffet wedding cakes
,
kentucky derby wedding ideas
,
lighthouse cake
,
mark zuckerburg
,
pinwheel place settings
,
pippa middleton
,
plumeria wedding cakes
,
rainy day wedding cake topper
,
ruffle wedding cakes
,
star wars grooms cake
,
steampunk wedding
,
steampunk wedding cakes
,
wedding diy
,
wedding tents