0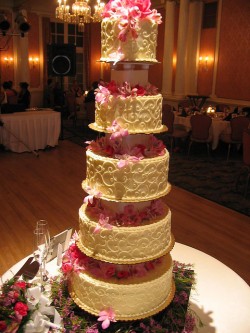 This cake reminds me of something that just happened to me recently. A group of my friends from college (who are mostly all single and without kids) all decided to meet up for dinner one night a few months ago. I hadn't seen most of the girls in ages. I bought a new outfit, washed my hair (a pretty miraculous feat for a working mom) and felt pretty good about myself. Until I showed up and my post-baby body couldn't even compare to the highlights, Coach Bags and skinny jeans that these girls donned. And they all seemed to be about 6 feet tall. That's what this cake is. A 6 foot tall blond with highlights and all the right accessories that just makes other cakes feel frumpy in comparison.
I mean really this cake might just be six feet tall. I don't have my measuring tape handy.
Anyway, this is a gorgeous FIVE tier round wedding cake..there must have been 500 people at this wedding! Decorated in a lovely beige fondant with a gorgeous swirl design covering the cake are a mixture of pretty pink flowers.
If cake's had a popularity contest this cake would win..and steal your boyfriend.