0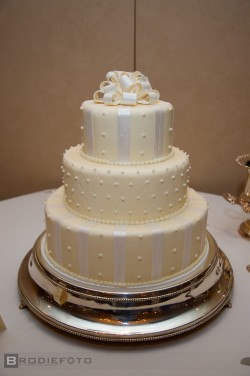 I love presents. I think most women do, yes?
What do I love more than presents? Edible presents! Maybe that was not then intended inspiration for this cake..but I think it suits it perfectly! This is a traditional three tiered round cake. The layers alternate between gorgeous fondant stripes and polka dots. On top is a gorgeous bow that would make Martha and all her pretty bow making glory envious. Seriously..I am the girl who has to buy pre-made bows at Christmas..because a). Who has time to make their own bows? and b). Even if I tried they'd never look that good. So the fact that this bow is made out of fondant..well that knocks my socks right off my feet! Polka dots are always such a tricky decoration to master as well. The spacing between this dots is perfect..this calls for a baker to have a very steady hand!
This cake was made by Dianna Tornow of Your Kind of Cakes in Aiken, SC. I have actually been to a wedding with a Dianna Tornow cake before..they taste just as good as they look!
Photo provided by Matt Brodie from Brodiefoto.