0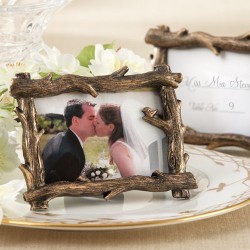 It's officially the second day of fall! Anyone feeling rather fall-ish today?
This just means that we can now talk about all things fall weddings including fun wedding favors! My wedding anniversary falls in October so I'm a huge fan of fall weddings.
And I love it when you add just a slight fall feel to your big day, like with these branch photo frames.
The frames can serve a dual purpose as both a place holder if you're planning on assigned seats at your reception, and then guests can take the frames with them!
Another fun idea – a photo booth at the reception (it is a party, after all) and then you send a photo home with guests in their fun frame.
Either way, the frames are an inexpensive way to add a touch of fall to your reception.
You'll find these branch frames here.