0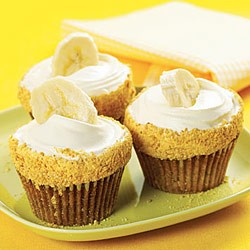 I really thrive on finding cakes and cupcakes that are really interesting. Let's face it:  while the classic vanilla cupcake with chocolate frosting is amazing, sometimes you just need to live a little dangerously and go out and find something really exciting and different. I am living on the edge with these Banana Cream Pie Cupcakes.
If there is one thing about the south that I love it is the food. I have sweet tea running through my veins and banana pudding helps pump my blood. (Suddenly this is starting to sound very unappetizing). Anyway, I love a good Banana Pudding or Banana Cream Pie. There are times I choose Banana Pudding over chocolate. Gasp! When I found these Banana Cream Pie cupcakes my southern heart almost exploded from happiness. If you fancy yourself a baker (which I am not by the way) you can whip out the old muffin tins and make some yourself thanks to this website. Brooke is the baker of this group so I think I'll let her try that. I can mess up cake in a box without really trying.
This leads me to the question I have got to know the answer to. What are your favorite desserts?