0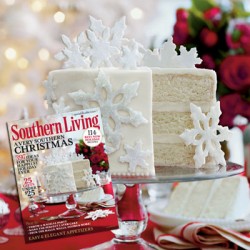 It will come as no surprise to regular readers of A Wedding Cake Blog that I am an avid Southern Living magazine fan.
The world stops once a month when an issue comes. I peruse every feature, and file away recipes for that week's menu or upcoming party, and I dream — and sometimes use — the travel advice on the pages.
So I look forward every year to the December issue, and what has come to be known as "the big white cake" on the cover.
This year's big white cake is beautiful in its simplicity, and I applaud the powers that be who chose it, because it's the perfect all purpose white cake.  Perfect for birthdays, perfect for weddings.
We've gotten so fancy, haven't we?  And there's nothing wrong with fancy.  But every good cook should have a very basic, completely perfect cake in their repertoire, and this is a good candidate for that job.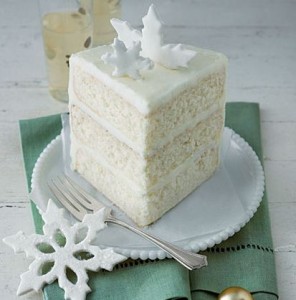 The cake — Mrs. Billett's White Cake — is done up in lovely, minimalist fashion with white buttercream and fondant snowflakes.  I was excited to share this with you because it would make a sensational winter wedding cake, and the fondant snowflakes are easy AND spectacular (which just happens to be the perfect combo IMO.)
Find the recipe here.  Find the fondant snowflake DIY here (this one's a video.)
Ah, Southern Living.  I love how fabulous you continue to be.
Photo: Iain Bagwell; Styling: Heather Chadduck.