0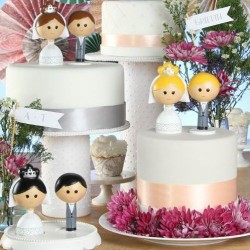 I'm a fan of fun and whimsical cake toppers.
So when I saw these Kokeshi Figurine toppers I just had to share them!
The figures are inspired by traditional Japanese Kokeshi hand-painted wooden dolls and they are so adorable!
The bride and groom figures are available in four styles and ethnicities so you'll be able to find the pair that best suits the happy couple.
The figures are about 4 inches tall so they'll fit on just about every cake and add a bit of fun flair to your big day.
A word of caution to the budget-conscious couple – these cake toppers aren't cheap. A set (2 figures) will cost close to $70. And the bases are an additional charge.
But they're so cute … how can you resist?
You'll find these cake toppers here.