1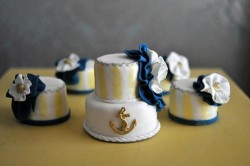 Adorable! That was the first thing that came to mind when I saw these Mini Wedding Cakes on Pinterest.
I have a slight obsession with miniature baked goods…I'm not sure if it makes me feel less guilty about eating something "unhealthy" or if I just like the idea of miniature things. Either way I love mini cakes, mini cupcakes, cake pops (they may not be miniature but they are small), and petit fours. And while most miniature goodies are not decorated elaborately today's featured minis are incredible! The attention to detail is amazing…I mean look at the rope border on the tiers of the cake, the bronze anchor, the flowers, and the stripes! Can you imagine the time it took to perfect the details and make these look so good?
In my opinion these mini wedding cakes would be perfect for a dessert table or even as a wedding favor…but we want to know what you think about the whole mini cake idea?
If you love the nautical look of these mini cakes, check out this nautical wedding cake and this nautical cake topper we have featured!
Thanks, too, to our good friend Beth from Cakes by Beth for letting us know that these are the splendid work of The Caketress of Toronto!
Source: Pinterest