0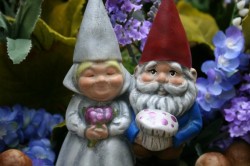 Oh gnome you didn't!
I've been waiting forever to say that.  Well. .at least since last Halloween when I tried to convince my husband to let me dress up our one year old as a garden gnome.  He wouldn't let me–but I had all sorts of giggle-inducing puns ready just in case.  So since my efforts were thwarted back then I get to share them all with you people.  Lucky you.
But seriously…gnome cake toppers?!  I love it.  The certainly aren't just for gardens anymore.  These adorable cake toppers are made by PhenomeGNOME (I think we would get along just fine with our gnome jokes).  You can personalize your gnome by choosing hair, clothing, mushroom, flower, and the base color.  They are hand made and hand painted and just gorgeous to look at.  Of course–if you fancy, they could just sit prettily on your shelves as well.  Who gnomes…it's up to you.
Visit PhenomeGNOMEhere and the lisitng for these gnomes here.