0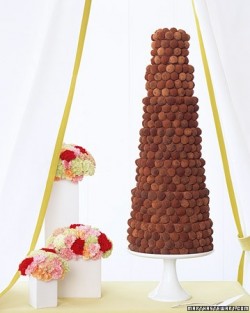 If I'm being totally honest, I have chocolate on the mind this week.
The other day I gave props to the gorgeous chocolate crepe wedding cake and today I'm talking about this amazing chocolate truffle tower cake.
Look at this cake. It is almost too amazing to eat.
Almost.
The cake is inspired by the corquembouche, a traditional French wedding cake. Each of the truffles is rolled in assorted cocoa powders which give the cake layers of color and flavor.
And if the truffles aren't enough to grab you, underneath the chocolate goodness is a yellow butter cake that is filled and frosted with more chocolate – chocolate ganache to be exact.
This is basically the most perfect chocolate wedding cake ever.
And if you're feeling particularly ambitious, you could actually make this cake. You know, as a DIY project. Check out the details here.
You'll find this truffle cake here.