Beach Wedding cake topper
0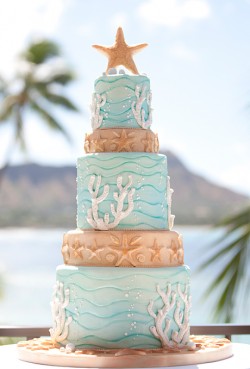 With much of the country coming out of a very deep freeze, I think today is the perfect day to dream about a beach wedding.
And if you're planning a beach-themed wedding, you're going to need a cake that has a tropical vibe – just like this beautiful creation!
I love how this cake plays on the ocean theme with alternating layers of blue icing for the sea and sand colored icing. It really makes me want to head to a beach right this minute.
As pretty as this cake is, it's also beautifully simple and doesn't go too far in the decor department. Read More
1
Hey beach-theme brides! It's so cold out today that I wanted to feature a few seaside cake toppers that anticipate Spring and Summer! Which one is your favorite?
Beach Couple Wedding Cake Topper