damask wedding cake
0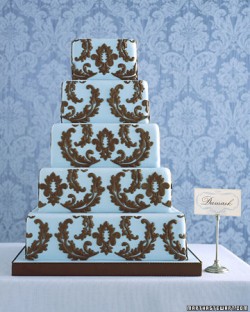 There is something to be said for an elegant wedding cake. And this damask wedding cake is both elegant and beautiful.
We've featured damask cakes here before and each time we do the cake is so incredibly gorgeous that it's almost too pretty to eat.
I love the color combination on this cake more than anything – it's what drew me to the cake, more so than the damask scrollwork.The blue and brown work so well together and they're perfect colors for a late fall or early winter wedding. And with a blue cake, you'll have your "something blue." Read More
0
Hello..my name is Christen and I would like to introduce you to my new boyfriend.  Or girlfriend..it seems like this cake has a little too much class to be a boy.  Either way I'm sure it's delicious.  At least it looks delicious, that is.
Black and green usually isn't a color combination that jumps out at me.  It actually sort of reminds me of bruising…but I digress, because in this instance it makes perfect sense.  The four-tiered cake has alternate Read More