star wars wedding cake
0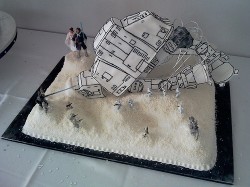 Well it took 11 months…but I am now proud to feature AWCB's first Star Wars wedding cake. At least my first Star Wars wedding cake. Brooke may have featured one but I don't think so.
Well…I'd love to tell you all about what exactly is going on here but sadly…I cannot. All I can tell you is that it appears to be snowy and Princess Leia and what I am assuming is Hans Solo (or this could be Natalie Portman and Hayden Christensen) are hanging out with a very large robot thingy. This Read More
0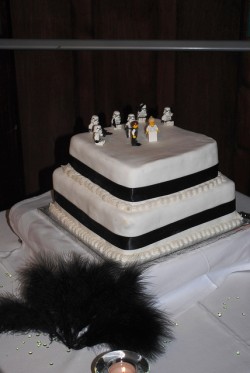 The title of this photo is "Yes, they are stormtroopers." I wonder how many times the Bride and Groom had to say that at this wedding!
Anyway, we love it. There's nothing better than a nerdy cake in our eyes here at aWCB, and it rarely gets nerdier that the occasional Star Wars cake! But this one seems just a little bit better than the rest. This isn't just a Princess Lea + Read More