bird wedding cake toppers
0
We're not done with Valentine's Day yet – oh nosireebobby!
Aren't these little lovebirds adorable?  I mean, the polka dot cake by Cakebee in Centreville, Virginia, was already all kinds of sweet, but then the dream team baker and bride came up with these precious felt bird cake toppers.  The red on the hearts coordinates with the cake so perfectly!  And the birdies are so life-like that you can practically hear the chirrups.
The bird motif was super hot in 2011, and it looks like it will carry over into 2012.  What do you Read More
0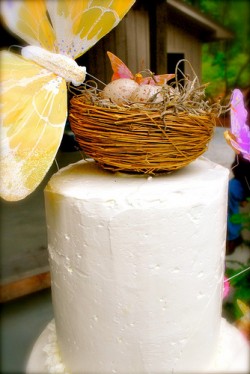 Oh yes..another bird related cake topper.
This one though..is a birds nest. A real live on. Well..I guess technically birds nest aren't "living" so to speak, but it's a real one. Made by birds. The bride got this one from her work and filled in with Spanish Moss and decorated the nest with cream speckled eggs..which I don't think are real..and colorful butterflies. Those are fake.
We've actually featured this cake before in this post however, I figured it was so unique and special it deserved a post all its own.
What homemade cake toppers have you seen? What kind of topper do you like better: handmade like the bicycle riders I featured a few weeks ago, store bought like this Lenox figurine we featured last week or homemade by the bride like is featured here?
0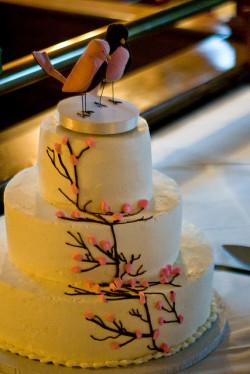 If one thing is "hot' this wedding season it is birds.
In real life I am terrified of birds. However, you put those bad boys on a wedding cake (or anything really) and I am suddenly in love. Much like I was when I saw this adorable wedding cake.
This is a three tiered round wedding cake frosted with delicious buttercream. I have the overwhelming urge to stick my finger in it and take a big lick. The front of the cake Read More