Blue and Brown Wedding Cakes
0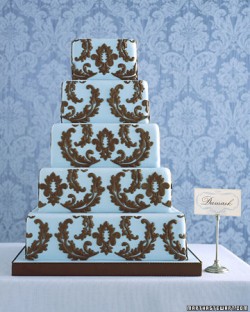 There is something to be said for an elegant wedding cake. And this damask wedding cake is both elegant and beautiful.
We've featured damask cakes here before and each time we do the cake is so incredibly gorgeous that it's almost too pretty to eat.
I love the color combination on this cake more than anything – it's what drew me to the cake, more so than the damask scrollwork.The blue and brown work so well together and they're perfect colors for a late fall or early winter wedding. And with a blue cake, you'll have your "something blue." Read More
0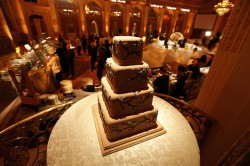 I have honestly been waiting to do two things on this blog since we started in December.
Say 'egads," and
Feature a cake by the goddess of weddings, Martha Stewart.
Today my dreams come true..because LOOK!  Read More