london bakers
0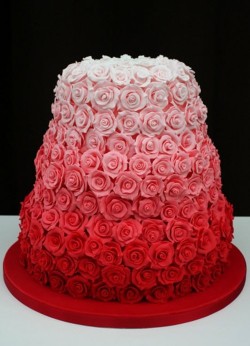 I am a sucker for the ombre technique of gently moving from lighter to darker shades of a color.  Whether it's a dress, a wall, a piece of stationary, or a cake – if it's a color that I love, and the artist has used ombre, I'm in.
This cake super had me at hello.  Isn't it just perfection?  Gradually moving from the palest pink to Valentine red, it's just breathtaking.  In fact, I think it's the perfect cake to feature as we head toward the month o' love.
This lovely cake is the work of Janet Mohapi-Banks, a wonderfully talented baker and cake artist located just outside Read More
0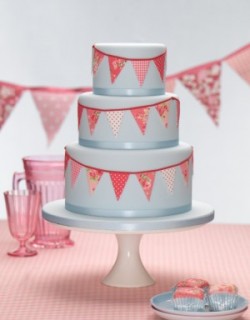 Here are some trends I have noticed for 2011:  Chevron, Horizontal Striped curtains and bunting flags.
Seriously, bunting flags are everywhere. I have seen them at children's birthday parties, homes decorated for the 4th of July, in nurseries, and today I found them on a wedding cake. This cake was made by Zoe Clark of The Cake Parlour in London. Do you not love how the English and Canadians have an extra "u" in some words like "parlour" and "colour"? It sounds so classy. Anyway, I was flipping through the gallery and found these cakes to be classic and light. I personally felt like Read More