coffee wedding favors
0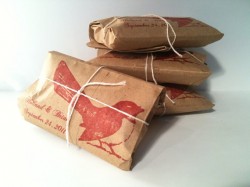 As a coffee fan, I have to admit I would love to receive roasted coffee beans as a wedding favor.
It's such a fun favor and shows that the bride and groom really wanted to give their guests a gift they'll actually enjoy.
I found these favors on Etsy from AproposRoasters located in Richmond, Virginia. The coffee beans are fresh roasted and each personalized package contains enough beans to be ground for one pot of coffee.
If you don't want to give whole beans, you can also choose ground coffee that's ready to be brewed by your guests as soon as they arrive home!
The packaging can be personalized with your choice of ink color, custom stamp, and each paper wrapped package is tied with twine. (The coffee is packaged in glassine bags to ensure freshness.
You can find more information on these awesome coffee favors here!