cookie wedding cakes
0
Posted on September 8, 2014 by Traci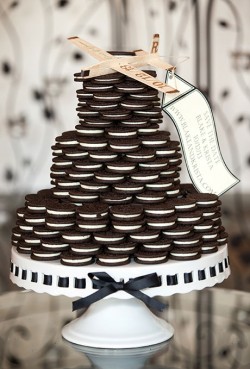 I don't know about you, but if I buy a package of Oreos it takes every ounce of willpower I have to not eat the entire package of Double Stuf Oreos in one sitting.
Which means I'm totally in love with this Oreo cookie wedding cake alternative.
What's not to love? It's made completely of Oreo cookies. Just give me a big glass of ice cold milk and I'll see you later.
In all seriousness (Oreos are serious business after all) I really do love this idea. We're talking about a three-tier "cake" created entirely of Oreo cookies. Read More
Other Posts You May Enjoy:
0
Posted on October 16, 2012 by Brooke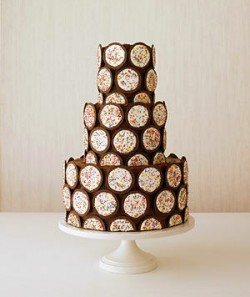 If you'd like to have your cake and eat your cookies too, then I think this is the perfect wedding cake for you.
Who needs mountains of sugar flowers and miles of ribbon and piped royal icing?  I can't think of a garnish more perfect for dessert than another dessert.
Here, chocolate buttercream, dipped and swirled in old fashioned, homemade abandon, covers a simple three tall-tiered wedding cake.  But not only is the chocolate buttercream yummy; it serves as delicious glue for chocolate cookies, which are white-iced and rainbow-sprinkled.  The whole effect makes me want to grab a huge tumbler of milk and dig right in.  What a completely fun cake!
Once again, we have The Cake Girls in Chicago to thank for this little spot of genius.
Other Posts You May Enjoy:
Recent Posts