Peony
0
There are fancy wedding cakes and then there are cakes that are just out-of-this world.
This pink macaron wedding cake fits neatly in the second category.
There is so much going on with this cake that your eyes aren't sure where to look first – but that's a good thing!
The three tier square cake is covered in light pink fondant and then macarons – some pink and some playing into the abstract art of the peony cake topper. Read More
0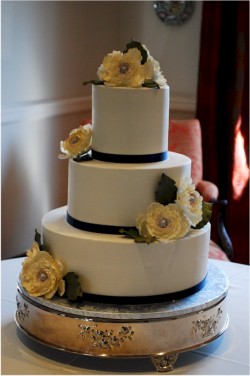 Well, Honey, Bless Your Heart.
I have mentioned my deep and abiding love for buttercream – I'm almost certain of it.  Way back in the days when I was less a spectator and much more a baker myself, I loved the perfection of a perfectly smooth buttercream cake.  And if it tasted good on top of all that beauty?  Well, so much the better.
Jenniffer White of Cup a Dee Cakes in Tunnel Hill, Georgia, is a master Read More