wedding accessories
0
It's been a while since we featured a fun wedding cake topper here so today seems like a good day to do just that!
I'm a big fan of wedding cake toppers – even though it seems that the trend lately is to just put a fresh flower on the top or leave the whole cake naked. Read More
0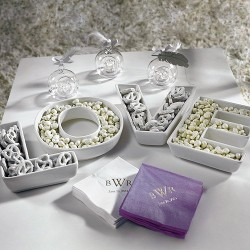 I love the idea of a candy bar at a wedding reception. And no, I'm not talking about little chocolate bars with your names on the labels.
I'm talking about a bar that serves candy where guests can fill little bags with lots of sweet treats.
It would be so fun to fill different size apothecary jars with assorted candies – Jordan almonds, mints, chocolates, and other goodies. Read More