0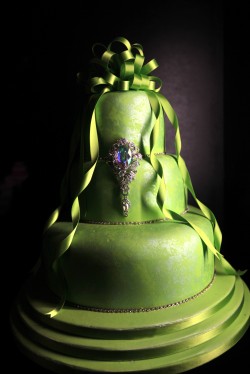 Before I saw today's wedding cake I will admit that I never once thought about green as a wedding cake color.
But this cake – courtesy of Hockleys Cakes – has me singing a different tune!
I absolutely love this emerald green cake. It is so stunning and so unique and will leave other cakes "green" with envy!
And it isn't just the green color of the cake that has me saying WOW – it's that brooch. Seriously that is just downright incredible. And stunning. And it adds to the rich look and feel of the cake. Read More
0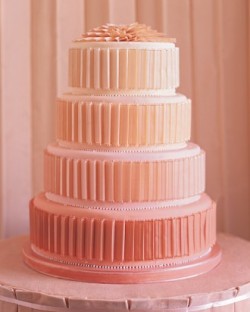 Every February I flirt with the idea of picking pink as a favorite color.
Maybe I'm inspired by all of the hearts and flowers that abound at this time of year. Or maybe it's because I secretly really like pink just a little bit more than I'm willing to admit.
Either way, I am loving this pink and peachy confection that I found!
As soon as I saw this cake, the line from Steel Magnolias ran through my head.
"Your colors are pink and pink."
"My colors are blush and bashful." Read More