cinderella
1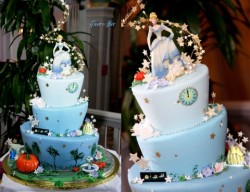 It's not secret. I love all things Disney. Sure this love has grown from countless trips to Disney World but it stems from one place.
Cinderella.
I remember the first time I saw the Disney version of Cinderella. It was the Christmas I was eight years old and it had just come out on VHS. I opened up the package and I was in love with the dark blue packaging and the princess in the sparkly dress on the cover. From that day on no other princess ever did it for me like Cinderella did.
When I went to prom..I wanted to look like Cinderella (only my dress was metallic purple..Oh the 90's!) and when I got married there was Read More
2
We're huge Disney fans here at A Wedding Cake Blog, so you'll be seeing a bit of Disney from time to time! I thought we'd start with some of my favorite toppers…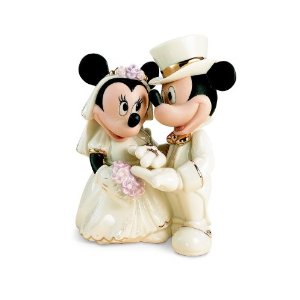 A stunning topper featuring everyone's favorite mice, the "Minnie's Dream Wedding" Cake Topper by Lenox is a fun way to bring a little Disney to the wedding! Colors won't be a problem in this one — straight white and gold will go with anything.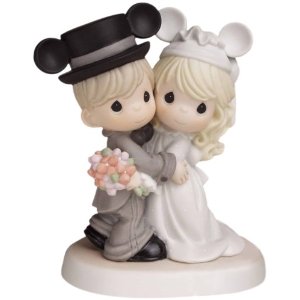 I love this Precious Moments Happily Ever After Figurine — while it appears at first glance to be simply a bride and groom figurine, the Mickey ear hats give away that whimsy of the Disney theme parks! So much fun for a couple who calls Disney their second home…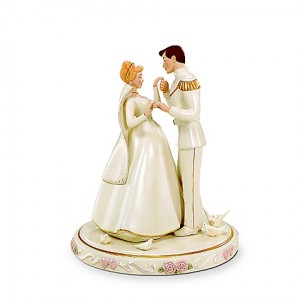 Perfect for any princess, the "Cinderella's Wedding Day" Cake Topper brings a sense of true romance to any celebration. Featuring Disney's quintessential princess, Cinderella, and her handsome Prince Charming — gazes locked together — it's the ideal harbinger of a life to be lived "happily ever after."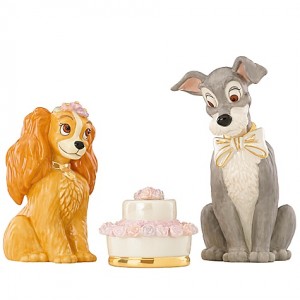 This has to be one of my favorite Disney cake toppers of all time. In the "Lady's Dream Wedding" Figurine by Lenox, beloved Disney characters Lady and the Tramp sit shyly eyeing each other — and their wedding cake between them! Don't forget to serve spaghetti at the reception! 😉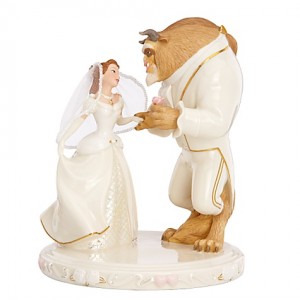 Love is in the air as Belle and the Beast discover their true feelings for one another in this "Wedding Dreams" Beauty and the Beast Cake Topper. The movement captured in this topper is what I think sets it apart — it looks like suspended animation, doesn't it? Perfect for any Belle fan.