edible favors
0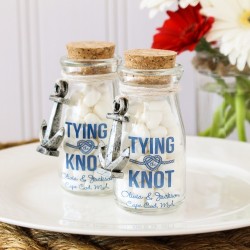 I love the idea of sending guests home with a sweet treat at the end of the night, and these personalized milk jars are the perfect vehicle for candy!
If you're thinking of having a candy "bar" at your reception these jars would be a fun addition. Guests could fill them with their choice of candy and then take it home for a late-night snack. Read More
0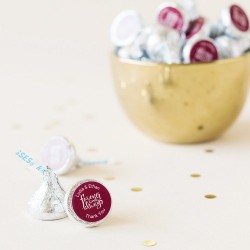 I love chocolate. Especially chocolate candy.
And if I can eat a lot of chocolate candy without feeling guilty, that is even better.
Which brings me to today's fun favor – personalized Hershey's Kisses!
How cute would it be to have a bowl of Kisses at each table at your reception? Guests could sneak a few before dinner, and eat a few more after dinner. Read More
0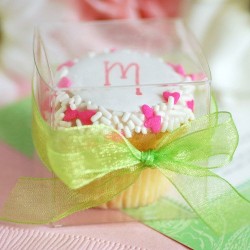 It's no secret that I'm a big fan of edible wedding favors, and that's especially true when we're talking about mini cupcakes.
Sure, a full-size cupcake is awesome…but when you're serving wedding cake to your guests it's probably a better idea to think about mini cupcakes if you're going with an edible favor.
These mini cupcakes come in your choice of vanilla or chocolate cake and can be decorated with your choice of sprinkles Read More