buttercream frosting
0
Maybe this only happens to me…but I fall in love with bakers. True story.
I fall in love with them and then every single cake I see just kind of blows my mind and suddenly my palms get all sweaty and I kind of want to marry them (marry them in the way one would want to marry a baker I guess) and then I start sending them embarrassing tweets like "Hi..I love your cakes they are great." And then I spend the next few hours checking my Twitter to see if they've replied back while slapping myself on the forehead and muttering Read More
0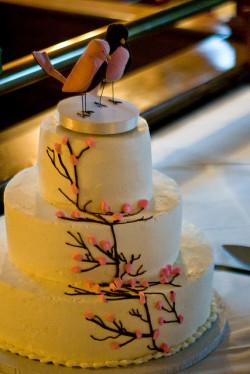 If one thing is "hot' this wedding season it is birds.
In real life I am terrified of birds. However, you put those bad boys on a wedding cake (or anything really) and I am suddenly in love. Much like I was when I saw this adorable wedding cake.
This is a three tiered round wedding cake frosted with delicious buttercream. I have the overwhelming urge to stick my finger in it and take a big lick. The front of the cake Read More