cute cakes
0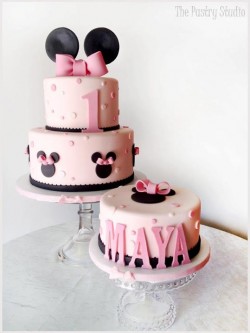 When I saw this cute-as-a-button Minnie Mouse-inspired birthday cake, I squealed like a little girl.  This was cuter than cute.  There's not a level of cute that's been invented yet that does it justice.
Sure, I know.  It's a first birthday cake.  But I live in the land of the Mouse, y'all.  So you can just imagine the copious number of Disney fangirls I know.  I'm totally serious.  They would LOVE this as a wedding cake, or for their bridesmaid luncheon.
There's somethings always so…just so about Read More
0
We're not done with Valentine's Day yet – oh nosireebobby!
Aren't these little lovebirds adorable?  I mean, the polka dot cake by Cakebee in Centreville, Virginia, was already all kinds of sweet, but then the dream team baker and bride came up with these precious felt bird cake toppers.  The red on the hearts coordinates with the cake so perfectly!  And the birdies are so life-like that you can practically hear the chirrups.
The bird motif was super hot in 2011, and it looks like it will carry over into 2012.  What do you Read More