masculine cakes
0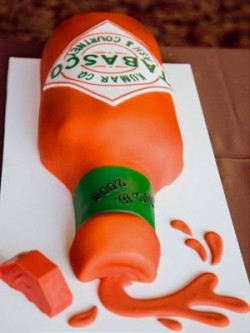 Ready for something a little spicy today, Boys?
I know a LOT of fellas that don't think their meal is complete without a little shake-shake of their favorite hot sauce.  And while we all have our favorites, Tobasco does seem to be the Granddaddy of them all, yes?
I think this is a really adorable cake.  I'm always slightly amused by sweet cake that's shaped to resemble something that it won't possibly taste like.  But then again, maybe they managed to add some Tobasco to the filling.  What do y'all think?  Chocolate-Tobasco Read More
0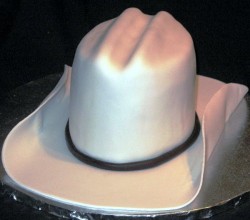 "When my ten-gallon hat is feelin' five gallons flat…"  Am I the only one who thinks of PSAs from childhood when I see huge Stetsons?
Isn't this cute?  Well, I suppose the cowboy who inspired it wouldn't appreciate me calling it that, but it is.  I'm assuming our groom – and maybe even our bride – does a fair amount of riding on the range, and needs something to Read More