red roses wedding cakes
2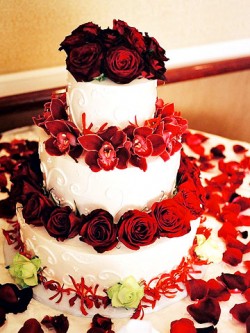 There's just something about dark red roses that I love.
They're dramatic. And beautiful. And they're the perfect flower to represent all things love.
They're also a perfect flower to adorn a lovely white wedding cake, adding both beauty and drama to the cake.
And when you add in some deep red orchids and green roses, you have an incredibly gorgeous cake. Read More
0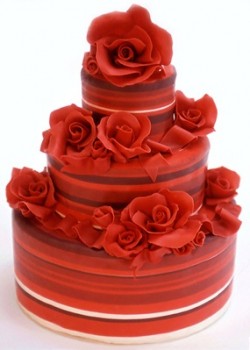 I'm not feeling very subtle today. So I went in search of a cake that would set Brooke convention (you know, beachy, classic, pearls, blah blah blah) on its head.  And this is what I found.
Isn't this stunning?  Bands of different red hues encircle an otherwise simple three-tiered round cake.  A band of white is added on the top and bottom layers for contrast, and the whole thing is trimmed out in Read More
0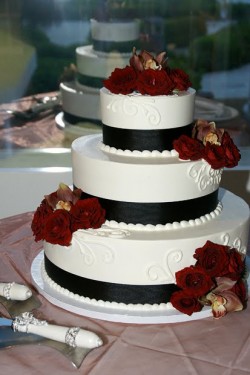 Well, by now you know that we are all about the seasons around here.  But sometimes it's nice to see an expression of seasons in a way that isn't so typical.  Take autumn, for instance.  You think autumn wedding cake, your mind automatically goes to colored leaves.  But here's another take on the colors of fall:  rich red roses.
It was love at first sight when I saw this cake.  The simple buttercream finish is trimmed with a wide, black ribbon, elegant scrollwork, and the most beautiful deep red roses.  For an interesting contrast, the roses are paired with orchids.  You would never think, "I know, I'll put orchids and roses Read More