seascape wedding cakes
0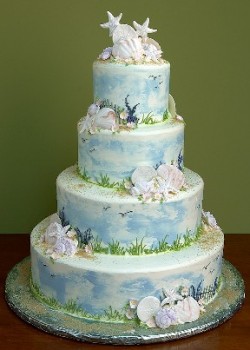 If given the choice I would live at the beach because I'm a firm believer in the theory that life is better in flip flops.
I love everything about the beach – the sand, the surf, the colors of the ocean. And, I always thought it would be romantic to be married on the beach. Which is why I love this beach-themed wedding cake. It just screams romance and you can almost hear the waves crashing in the distance, right?
The four-tiered cake appears to be hand painted with a seascape theme of blue skies, picket fences, sea grass and sand. Read More
0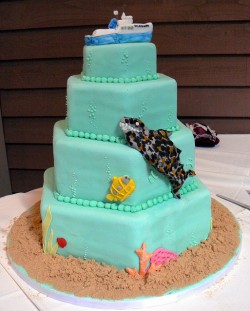 OK, I had to stick with the under the sea theme after those cutie pie scuba diver cake toppers!
This one features a shark and what looks to be either a sunfish…or a yellow submarine! 😉 I really like the ship topper, but I can't get over those little piped bubbles on the side. I think that's a really fresh and Read More