wedding cakes with red flowers
2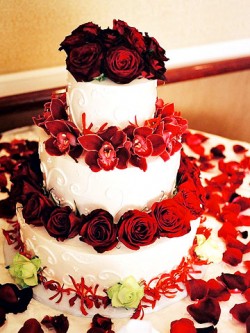 There's just something about dark red roses that I love.
They're dramatic. And beautiful. And they're the perfect flower to represent all things love.
They're also a perfect flower to adorn a lovely white wedding cake, adding both beauty and drama to the cake.
And when you add in some deep red orchids and green roses, you have an incredibly gorgeous cake. Read More
0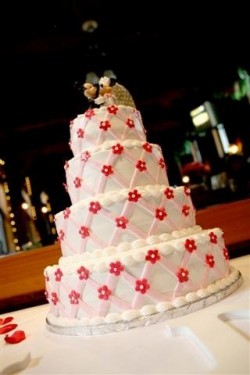 Today on the blog, we're getting an extra dose of adorable.  And moreover, we're seeing adorable done right, which is even better.
Check out this absolutely precious cake.  This four-tiered beauty was the star of the show at Melissa and Heath's wedding, which took place in 2006.  The couple had never been to Disney before going together while they were dating…and they were instantly hooked on the magic.  They even considered getting married at Walt Disney World, but opted for a hometown wedding, and a cake that served as an homage to their favorite vacay Read More