chevron wedding cakes
0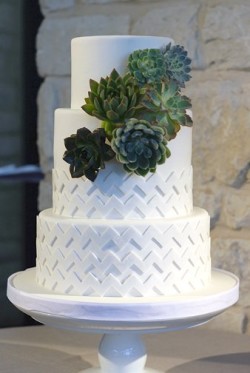 While brightly hued wedding cakes seem to be all the rage right now, there's something to be said for an elegant all-white cake.
Think of an all-white wedding cake as a blank canvas. You can add any kind of embellishment from fresh flowers to greenery, and even a peek of modern art in the icing.
Take today's featured cake fore example. Read More
0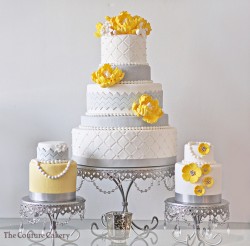 Yellow and grey are so hot right now.  We are seeing them simply everywhere!  And wedding cakes are no exception.
Isn't this trio of cakes by Jasmine Clouser of The Couture Cakery darling?  Where to start?  The color combo is enchanting; I especially love how Jasmine used both bold and pale shades of yellow.  The quilting on the large cake is divine.  And the pearls!  The varied heights of the cake rounds is awesome too, and keeps the whole cake from slipping into something too traditional.  Add to it the juxtaposition of the flouncy peonies with the stylized simpler flowers, and it's just all perfection!
Jasmine created this cake trio for a bridal show earlier this year, in conjunction with Weddings by JDK and Persnickety Invitation Studio.  The sweets table that came out of this dream team collaboration is simply breathtaking!  Gorg!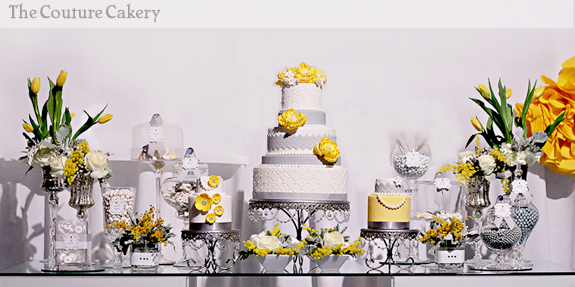 If you love these cakes, be sure to look at others that we've featured by Couture Cakery, like this Orange Spring Tiger Lily Wedding Cake, and this Indian Inspired Cake.