pink wedding cupcakes
0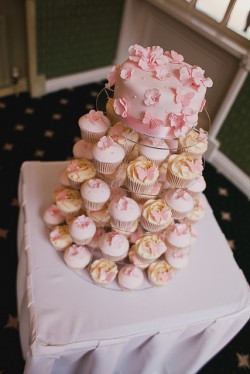 I feel like putting on my lacy gloves, Jessica McClintock hat, and heading to a tea party!
Isn't this precious?  Helen and David certainly had a lovely little cupcake tower and cutting cake to celebrate their Big Day.  I love the petal pink hue, and the fluttery Read More
0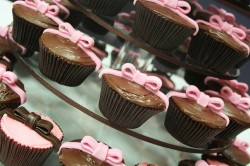 Cupcakes are probably the Lord's perfect food.  I've accepted that fact.  For weddings, most cupcakes are dolled up with mile high buttercream frosting and look adorable to boot.  Sometimes though…you just need a pretty cupcake layered in chocolate ganache.
Yum.
These adorable cupcakes are frosted with a thin layer of ganache and topped with a gorgeous light pink bow. I also think the random pink cupcake with the chocolate bow tie on the bottom tier is adorable Read More